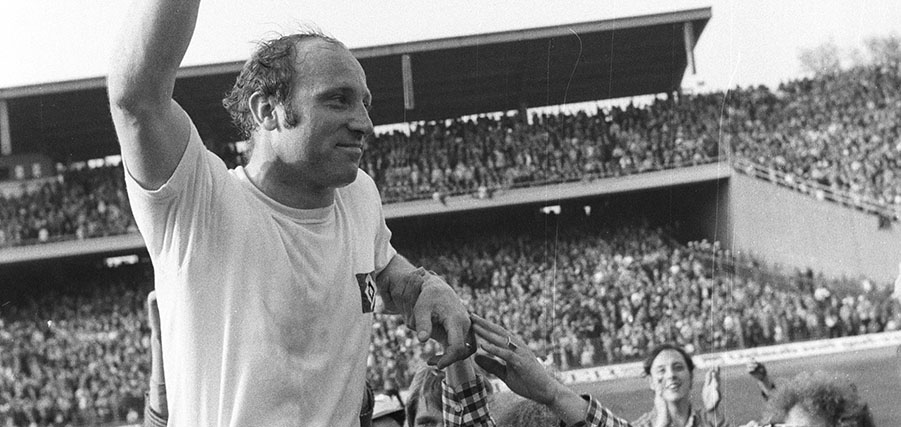 One of us!
Obituary on the death of HSV idol, DFB honorary captain, honorary Hamburg citizen and, above all, fine human being Uwe Seeler.
Sometimes it is astonishing what the death of a person can cause. What consternation, what sympathy, what emotions. Anyone who travels digitally or "in real life" after the death of Uwe Seeler is inevitably confronted with such a phenomenon. Uwe Seeler's departure from life is touching: Footballers and non-footballers, young and old, rich and poor, HSVer or even non-Rothosen. The reason for this, one could simply conclude, is Uwe Seeler's popularity. But that would be too simple. It is rather due to his character, his overall appearance, his values. It's "Us Uwe".
Seeler was a star without airs and graces - and easy to touch.

It is already a small eternity since Uwe Seeler scored his goals in the HSV and national jerseys. Five decades, more than half a lifetime. But he had lost virtually nothing of his enormous popularity. Wherever Seeler appeared, and by no means only in his hometown of Hamburg, he was recognised immediately and even by complete strangers and teenagers who had never seen him play, he was addressed in a completely relaxed and natural manner. "Uns Uwe" was a star you could touch. A handshake here, a pat on the back there. Seeler patiently went along with everything, had a kind word for everyone, and everyone got an autograph or a selfie. Or even two. Or three. Even if it took a long time.
A legend in his own lifetime - his long-time teammate Jürgen Werner had already aptly explained the "Uwe Seeler phenomenon" at the end of his career in 1972: "A star who endures the cult, the hype surrounding his person, who certainly enjoys it at times, but who never pushes it himself. It is also to Seeler's credit that he has made this cult bearable through hanseatic 'understatement' and directed it towards the matter at hand, the game of football. The game, which is now identified with his name and to which he owes his social position, acquired social recognition not least through him."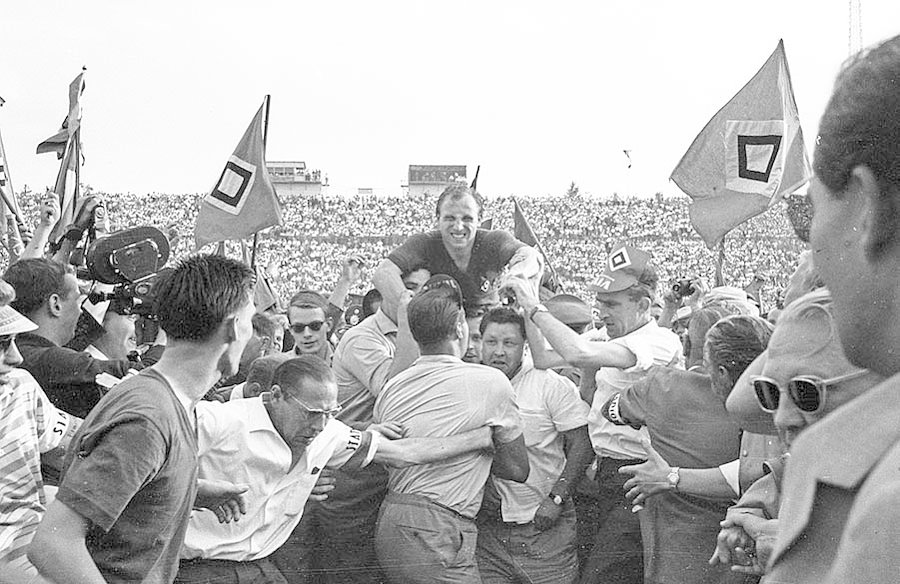 Uwe's family: the wealth of his life
Schnelsener Straße (today: Winzeldorfer Weg)/corner "Fricke" - this is where Hamburg's most important footballer was born and grew up. He scored the first of his many goals here. The Seelers lived at number 16, 3rd floor, on the right: "Mudder" Anny (born 1913), "Vadder" Erwin (1910), brother Dieter "Didi" (1931), sister Gertrud "Purzel" (1934) and Uwe, the youngest (1936). Plus permanent guest Uncle Günther "Moni" Wolf (1926), mother's brother, who played goalkeeper for SC Victoria and later switched to HSV under gentle pressure from the family.
Six people in just under 50 square metres. Stove heating, no running hot water. Very simple conditions. The division of the domestic sleeping quarters was a logistical masterstroke. The sister slept with the parents, the two sons in the living room, the uncle on the kitchen bench. "They were," recalled Uwe Seeler, "real holes in which we had to live. The kitchen was so lousy that mother didn't have to get up to balance the cooking pot on the table." Nevertheless, thanks to his parents' organisational and improvisational skills, the table was usually well filled. Uwe Seeler raved about the turnip stew and potato soup until the end.
There was always a lot of gratitude when the football idol talked about his early days: "Despite the difficult times, my parents always managed to make it nice for all of us. I felt totally protected. All in all, I had a happy childhood. I learned consideration and honesty. I learned direct, clear speech, and I learned to appreciate the value of a family. That was and is the richness of my life."
First a street kicker on cobblestones, then a rothose
It became apparent early on that Uwe Seeler would one day become the darling of the masses. In any case, he was born with plenty of footballing talent. His father Erwin, a dockworker in Hamburg, was one of the most popular footballers in the city, an icon of workers' football in the 1930s and later, from 1938 to 1949, one of the leading players at HSV. Given this role model, it was almost logical that his two sons also chased the ball.
They developed extraordinary skills - first as street kickers playing on the cobblestones and rubble plots in their home district of Eppendorf, then in the training and games of the HSV youth team. Uwe, officially a "Rothose" with membership number 1725 since 1 April 1946, soon clearly outshone his brother, who was almost five years older. When Dieter attracted the attention of none other than Sepp Herberger in 1949, mother Anni is said to have told the national coach: "You'll have to see our boy first! And "Vadder" Erwin was also very sure of his youngest: "Dat wart mol een Grooten!"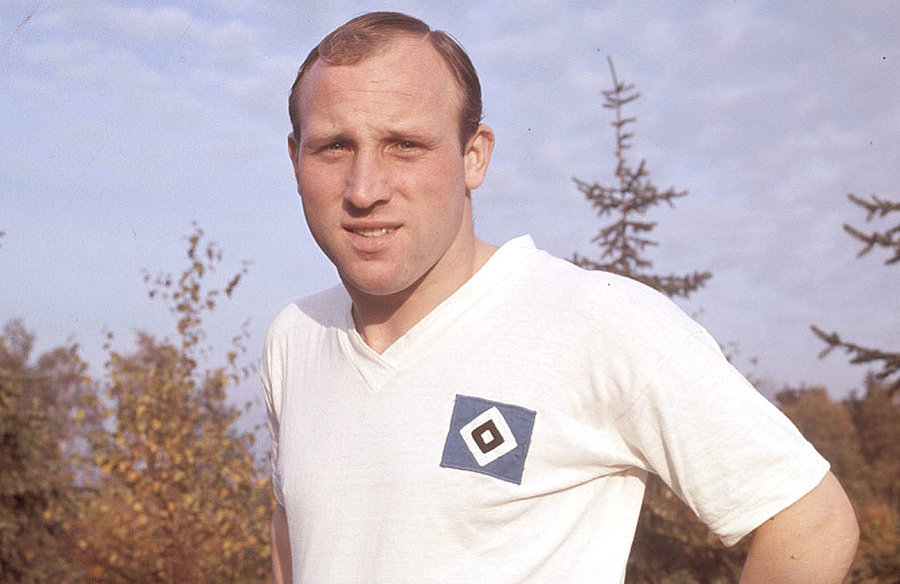 Why "the fat one" impressed Pelé
The "Frankfurter Allgemeine Zeitung" later wrote that Seeler had "the collected energy of a cannonball". In the "fat man", as he was affectionately called since his childhood because of his stocky, stocky stature (at a height of 1.68 metres, his "fighting weight" was usually around 75 kilograms), Hamburger SV and Germany were blessed with a centre-forward like no other: Hard-working, strong in battle, robust, energetic, brute, powerful, assertive, strong in the head, technically skilled and, above all, ice-cold in his finishing. When Uwe Seeler laced up his football boots, the opposing goalkeeper had to dress warmly and preferably put on a second pair of gloves. Seeler shot and scored from all angles and in every conceivable way: Whether by overhead kick, diving header, long-range shot, side-footed shot, volley, lob, tap-in or with the pike - he always found a way to get the ball over the line. "His ball handling was perfect, his shot accurate. And what I particularly admired was his heading," was once praised by none other than Pelé. The Brazilian continued: "Uwe had one thing ahead of all the other players: his pull-backs, his shot while falling, hitting the ball while his feet were at head height himself. I haven't seen that in any other player."
Seeler was a goal factory of the very highest order, who also regularly produced particularly beautiful pieces of work. Inimitable goals to frame, such as the back-heeled strike against Westfalia Herne in the 1960 German championship final, which was hailed as the "goal of the century", or the legendary 2:2 equaliser by back-heel in the 1970 World Cup quarter-final against England. Seeler's "artist's misfortune": The first "Goal of the Month" was not awarded on ARD's "Sportschau" until March 1971, barely a year before the end of his career. Nevertheless, Seeler won the medal once again: In July 1985 - at the age of almost 50 - he scored for the "Deutschland Allstars" in a rematch of the 1966 World Cup final in Leeds against the "England Allstars" with a spectacular side-footed strike.
However, Uwe Seeler did not only inspire with the immense number of his goals and the spectacular way in which he scored them. His entire style of play and his attitude, the racking until complete exhaustion, made him an identification figure. He fitted perfectly into the economic miracle era: roll up your sleeves and keep going! Commitment is rewarded! He did not only concentrate on finishing near the penalty area, but was also a relentless fighter in defence, someone who ploughed the pitch deep into the opponent's half and, if necessary, made a tackle himself. In this way, Seeler not only inspired the audience, but also his team-mates, and - by no means using only kind words - constantly spurred them on. "Sweat on the forehead, dirt on the shirt and blood on the leg - these were, somewhat pathetically, the insignia of the football idol," is how his long-time teammate and later journalist Gerd Krug described him.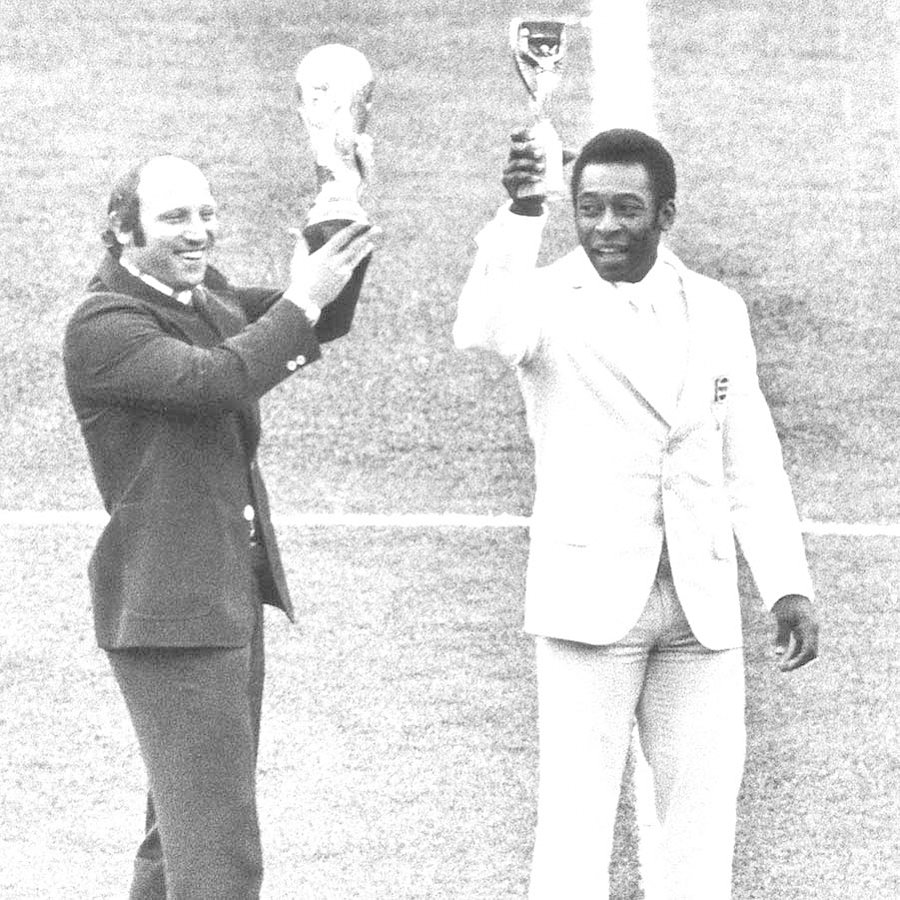 Uwe's father didn't want any wimps at home
Seeler always looked for the direct route to the goal, went unflinchingly where it "hurt". In the literal sense of the word: his opponents, who often played as a duo, gave him "a good kicking". Not always without consequences: Seeler's medical records read like an encyclopaedia of sports traumatology. More than 60 injuries are documented: from a painful horse kick to lacerations, strains, torn muscle fibres, fractures and, early on, severe back problems caused by chronically dislocated vertebrae. Seeler underwent eight operations, eleven of which left scars.
Nevertheless, Seeler's name was rarely missing from the match report sheets. Whenever possible, the striker made himself available for action. The much-cited "good Seeler's healing meat" and a special attitude made Seeler a true "stand-up guy". Uwe was tough, skipped things that would have made some others take sick leave. There was no whining - another legacy of his father "Old Erwin". The old warhorse couldn't stand snivelling at all, even played a game bravely to the end despite a broken fibula, and had instilled in his sons at an early age: "Remember one thing: I don't want any sissies in this house! So Uwe learned early on to "bite" and to fight injuries. An ideal patient, with the will to heal quickly.
Leading figure, role model, captain
Uwe Seeler's attitude flowed perfectly into his competitive sports philosophy. "Want to win, be able to lose" was his motto, which he lived up to without bending and which made him a leading figure, role model and captain in his teams. And he distinguished himself by showing greatness, human greatness, even after the most painful defeats.
Images that will always remain are those from Wembley 1966, Uwe's iconic photo as he walked off the pitch with his head and shoulders hanging after the unfortunate final defeat to England.
And it didn't stop there. Four years later, 1970, semi-final against Italy, drama, a 3:4 in the sweltering heat of Mexico. For Uwe Seeler, the game ended with shakehands from the opponents, who had worked him over for 120 minutes with all permitted and many illicit means.
The Uruguayan writer and football lover Eduardo Galeano coined the wonderful phrase: "'Uwe, Uwe!' was the best way to shout 'Germany, Germany'!"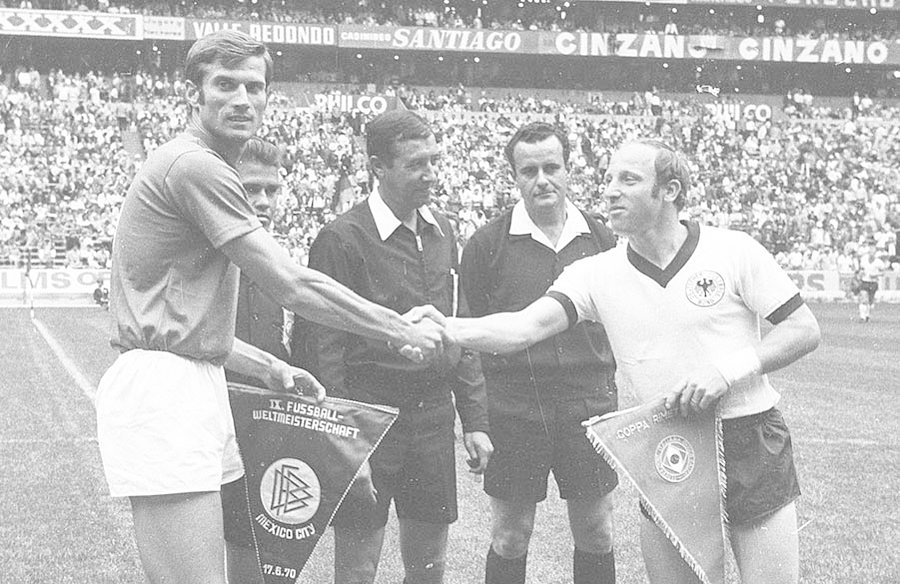 Ilka was Uwe's bull's eye
But Seeler always described his wife Ilka as "the best hit of my life". He met the then goalkeeper of the HSV handball team at the club at the end of 1953, and they married at the beginning of 1959. Unlike many other footballers, Seeler managed to keep his marriage free of scandal. The much-cited secret recipe of the diamond partnership: "I decide the big things and my wife decides the small things. Which things are big and which are small is decided by my wife."

A "No" made Seeler a Hamburg landmark
Of course, at some point Seeler's qualities aroused desires beyond the Elbe and Alster. Lausanne Sports from Switzerland expressed interest in HSV, and Real Madrid also came knocking. The only offer Uwe Seeler seriously considered, however, came from Inter Milan in April 1961. The Italians, through their negotiator, coach Helenio Herrera, tried to make a change of club palatable to the striker with sums that were dizzying at the time. There are reports of net hand money of DM 900,000 at first, and after three days of negotiations finally DM 1.3 million and DM 1.5 million, plus a three-year contract with an annual salary of DM 500,000, including attractive "extras" such as a villa and a car. Seeler thought about it - and finally turned down the offer. A mixture of gut feeling, attachment to home, loyalty and a sense of security (Seeler had just built his house and had become a father for the first time) tipped the scales. In addition, national coach Herberger and Seeler's old friend Adi Dassler had arranged an attractive alternative offer and lured him with the general agency of "Adidas" for northern Germany.
Half-day mileage in the lowlands between Flensburg and Göttingen instead of counting money and "Dolce Vita" under the Italian sun? The "No" to Inter and "Yes" to HSV made Uwe Seeler a kind of "landmark" of Hamburg and also a myth far beyond the borders of the Hanseatic city. The world-class footballer had finally become the idol "Us Uwe". Seeler then led HSV into the newly founded Bundesliga and advanced to become its first superstar and, with 30 goals in 30 games in the premiere season of 1963/64, also its first top scorer. For almost two decades, the striker shaped the face of the HSV team and left his unmistakable mark on their play.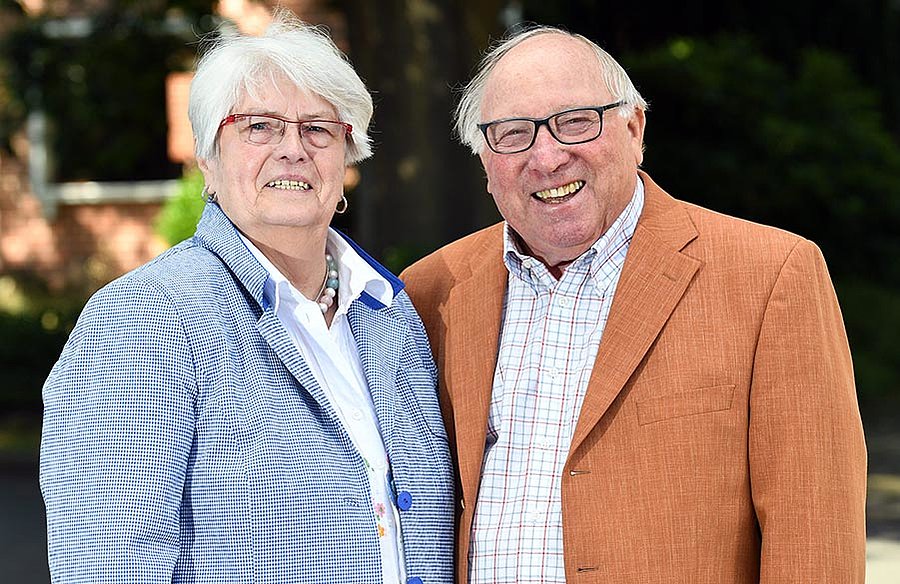 For Uwe, the football pitch was heaven on earth
"When you play in four World Cups, it's quite clear that you would have liked to be a World Champion. Otherwise you'd be lying," Seeler admitted in retrospect. But his unbroken charisma was not the result of numerous very big trophies and titles. As comparatively puny as this collection may be, the list of personal honours and awards that Seeler received - remarkably, especially after the end of his active career - is overflowing and meaningful. In 2005, thanks to the support of entrepreneur and fan Andreas Maske, HSV erected a monument to him in the form of an image of his right foot directly in front of the stadium. The bronze sculpture on a scale of 20:1 is over five metres high, weighs four tonnes and cost a quarter of a million euros. Seeler, who himself never lived large, commented on the action as usual with a friendly smile and the modest statement: "I am nothing better than others, but a stinking normal person. I just played football."
Typical, Uwe. He was someone with whom a great many people could and can identify. And whom many people now miss. We do too. But - and this is more valuable than any of these lines - this Uwe Seeler has left behind more than goals, titles and the odd trophy. He created lasting values and lived many of the things that even today most HSV fans and sympathisers would sign as the perfect model for their club and association.
One more thing: Uwe Seeler always had a great sense of humour. When he met up with his old friends, the flax regularly blossomed, even in recent years. Here a quip for buddy Horst Schnoor, there a winking dig at Eddy Münch and there a jab at Dieter Matz. And of course, every now and then an almost mischievous smile for his Ilka. So it's no wonder that he, once asked about death, answered with a broad grin: "Don't worry, football is played in heaven too...". That is exactly what "Us Uwe" was and is, one of us. That is how we will honour his memory.