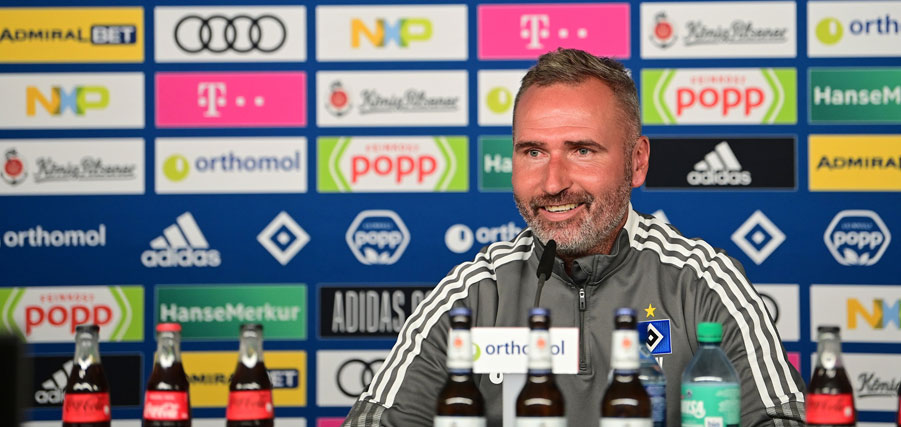 Press Conference
26.11.21
"Our greatest strength is the community".
In the press conference before the home match against FC Ingolstadt, HSV head coach Tim Walter spoke about the current match and the way forward.
The previous home match against SSV Jahn Regensburg was just six days ago, the memories are still fresh and the anticipation for the next home match is high. "The boys want to continue this," said HSV coach Tim Walter on Friday (26 November) in the press conference before the second home match in a row. Because already on Sunday (28 October, 1.30 pm), the next game at the Volksparkstadion is coming up after the 4:1 win against Regensburg, FC Ingolstadt will be visiting. The team, which as a promoted team got off to a less than ideal start to the season, now has a new sporting director in the person of coach Andre Schubert and board member Dietmar Beiersdorfer and is currently bottom of the table, but of course should not be underestimated under any circumstances. HSV coach Tim Walter also attached great importance to this and also explained the further path of development and gave Hamburger SV's biggest fist pump.
In Detail Tim Walter spoke about...

... the personnel situation: "We are currently missing several players. Jan Gyamerah couldn't train for two days, he has a cold. Stephan Ambrosius and Tom Mickel are making great progress and we hope that they will be back on the pitch with the team after the winter break. Maxi Rohr is already close and has already done parts of the training with the team. Ferro and Josha Vagnoman have also been on the pitch and are close, but we won't take any chances with either of them. And Jonas David should be back next week. So our recruits are making progress.
"We're going into the game with a lot of energy and courage."
... the current situation: "Our greatest strength as HSV is our community, which is an absolute fist-pump. We are on a good path together as a team and as a whole club, but this path must continue, because it is a path of development. On the pitch, we work every day in training to improve, to develop. The journey is the goal, so it's about taking a step forward every day. If we can do that, then we will continue to show good games like in the past weeks - and hopefully we will be rewarded for our performance as often as possible, like against Regensburg.
... the upcoming opponents: This league is so close, that shows every matchday again, so the position in the table doesn't necessarily always have much to say. But it's clear that nobody expects FC Ingolstadt to win here at HSV - and that's where the danger lies for us, that will be the big difficulty and challenge. But we are prepared for everything and we know what we can do. Our greatest trump card And the boys are determined to continue what they have started. That's why we're going into this game confident and, as always, with a lot of energy and, above all, courage.