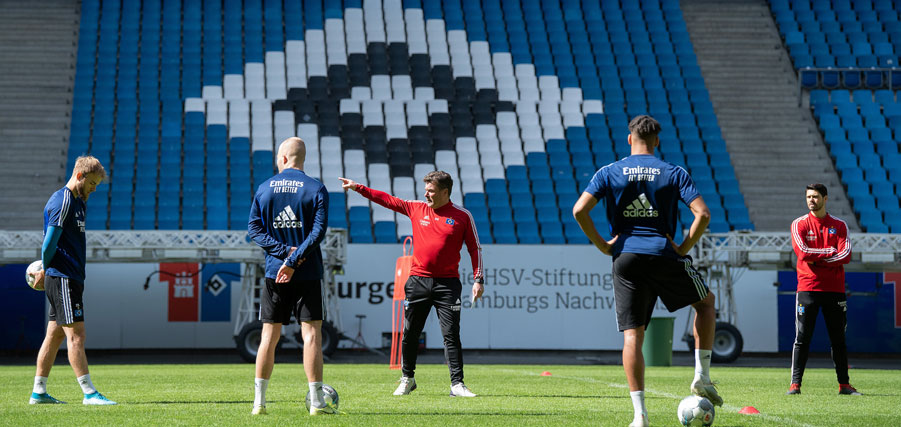 Restriction-filled training continues over Easter weekend
To try and contain the coronavirus pandemic, there are multiple restrictions placed on the HSV training sessions that began again at the beginning of this week. Manager Dieter Hecking is looking to make up for lost time, with sessions taking place over the Easter weekend as well.
Normally on a day like this, the Volkspark would be full to bursting. On the one side the walkers, who are making the most of the beautiful Good Friday weather to enjoy the views on offer in the Volkspark, and on the other side, the football-mad HSV fans, who using their free day to come down and watch the team train before the weekend's second-division clash. But of course, this isn't any normal Good Friday. There were only a handful of walkers able to enjoy the glorious spring sunshine in the spacious park next to HSV's home ground, whilst the HSV first team were enjoying training inside the Volksparkstadion, away from their usual training pitches to the south of the 57,000-seater stadium. It was the end of a first week of training under special conditions, not just due to the location of the sessions.
Training took place at 10:00am, 1:00pm and 4:00pm on Good Friday, like it had done during the rest of the week, the squad split into three smaller groups with coaches and assistants assigned to each group. Training without bodily contact, meaning inside the depths of the Volksparkstadion, behind closed doors and with no challenges allowed, continued, with the aim being not to endanger the special exemption handed to HSV by the Hamburg health authorities. Whilst not ideal, Dieter Hecking and his team are trying their best to prepare their charges for the day when competitive football can begin again.
When that will be and under what conditions still remains a mystery. Until then, the HSV first team are doing the same as everyone else; sticking to the rules and making the best out of the situation. The Saturday of the Easter weekend will also see the first team squad out on the Volksparkstadion turf, before the players are given Easter Sunday and Monday off, with individual strength and conditioning plans to fulfil with their own four walls. The players are used to getting things done inside their own home from their experiences from the first three weeks of the pandemic. Yet they will be hoping that they can return to 'real' training, with full intensity, well-fought aerial battles and tough tackles, sooner rather than later.