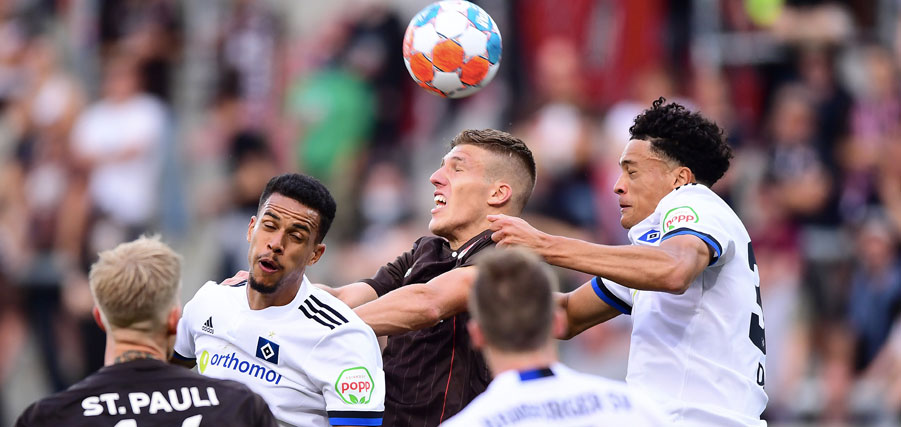 Voice From the Game
13.08.21
"That just really hurts!"
First a lucky equaliser, then a stolen penalty - the bitter 2:3 defeat in the Hamburg city derby left HSV coach Tim Walter and his captain Sebastian Schonlau agitated and frustrated.
That's how close joy and sorrow, success and failure sometimes are. In the 53rd minute, referee Osmers should have called a penalty for HSV after a foul on Jatta, but instead the bell rang on the other side less than three minutes later and FC St. Pauli took a 2-1 lead through Makeniok, who in turn scored the third just two minutes later and therefore deciding this Hamburg derby. At the end of this highly intensive and hard-fought city duel on Friday evening (13 August), the host FC St. Pauli stood there as the beaming winner, while the Rothosen left the pitch empty-handed and hanging their heads. Pure frustration. The comments on the game.l.
Sebastian Schonlau: We didn't start the game well and had big problems in the first half. Nevertheless, we equalised before the break, came out of the dressing room well and conceded 1:2 at an unfortunate moment, and then conceded the third goal too quickly. And we should have had a penalty just before the 1:2. That really hurts because we had planned something different. We wanted to win the game for the fans. Now we have to deal with the defeat for the first time.
"We didn't represent our colours the way we should have" Tim Walter
Tim Walter: In the end, it's a deserved win for FC St. Pauli because we didn't take the derby time as we had planned. We went into half-time with the lucky 1:1, come out of the dressing room well and then have to get a clear penalty. We were also otherwise dangerous in front of the opponent's goal in this phase, but almost in the opposite direction to the penalty scene, we concede the second goal. That's when the game turned. We tried everything until the end and managed to tie the game up, but we acted a bit too headless at the back. We have to go deeper into the analysis now, because it wasn't all bad, especially in the final phase. I feel very sorry for our fans, because we were too often not ready. Overall, we did not represent our colours as we should have done.