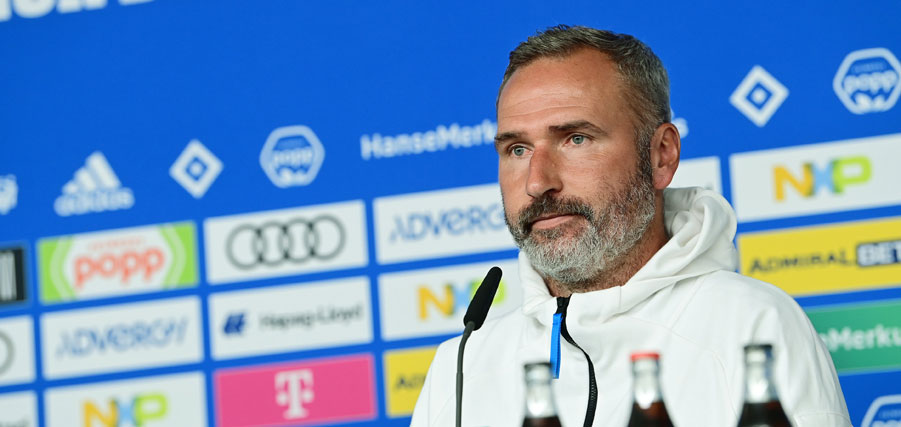 Press Conference
22.07.22
Tim Walter: "We've lost the greatest HSVer of all time".
One day after the death of Uwe Seeler, HSV head coach Tim Walter expressed his maximum appreciation for the Rothosen idol in an emotional press conference.
It was clear even before the start that it would be an extraordinary press conference. One day after the death of Uwe Seeler, Rothosen head coach Tim Walter made an emotional statement about the greatest HSV player of all time and then took questions from the media representatives present. The 46-year-old expressed his respect and appreciation for the Rothosen idol, whose values and virtues will continue to shape the style of the club beyond his passing. At the end of his speech, the football coach also spoke about the topic that accompanied and delighted "Us Uwe" throughout his life: football. On Sunday, the Rothosen welcome F.C. Hansa Rostock to the Volksparkstadion (24 July, kick-off: 1.30 p.m.) and want to clinch their second win of the season.
Tim Walter spoke in detail about...
... the death of Uwe Seeler: "It is extremely difficult because we lost the greatest HS player of all time yesterday. My condolences go out to the family and especially to his wife Ilka.
... the legacy of the HSV idol: It's clear that we can never do justice to his legacy in one game. That's why it's difficult, of course. The boys know what kind of player he was and in what light he is seen all over the world. Of course, with our fans behind us, we want to give everything on Sunday to win the game. But again: we can't do justice to Uwe with a football match.
"Having respect for each other, always giving everything, but also having fun at the same time, that's what life is all about. That's what Uwe Seeler taught us Tim Walter
... his memories of "Us Uwe": Unfortunately, I never met him in person, but the films and stories about him were impressive. He was just so normal, although he was such an idol and special person. What's been going on here in the city and at HSV since he passed away is something everyone can see. So it will certainly not be easy for us on Sunday, but we will do our best.
... the energy that HSV can draw from the legacy of Uwe Seeler: We want to stand for the virtues that Uwe embodied as a team and as a club. That's what I tried to explain to the team earlier: To have respect for each other, to always give everything, but to have fun at the same time, that's what matters in life. That's what Uwe Seeler taught us over decades - and that's what we want to revive now.
This and all other statements, including the sporting classification of the second league home match against F.C. Hansa Rostock, can be found here in the HSVtv video.