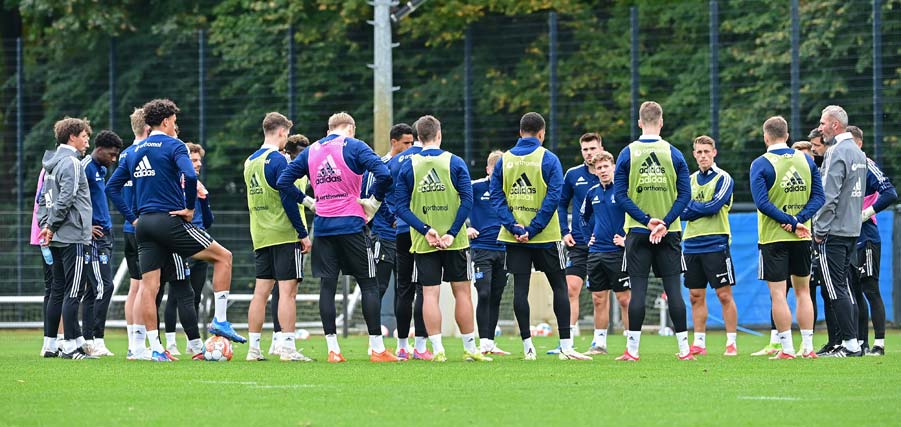 Post Match Thought's
31.10.21
Train consistently
HSV remain unbeaten for the tenth game in a row, but must continue to work on their cleverness in order to be even more successful.
After the last-minute win in Paderborn (2:1) and the progress in the DFB Cup against 1. FC Nürnberg (5:3 n.E.), HSV unfortunately could not gild its English Week in the home match against Holstein Kiel. After 90 minutes, the Red Shorts had to settle for a 1-1 draw against the Störche in front of 39,543 spectators at the Volksparkstadion. It was already the fifth draw in the sixth home game. The reaction of the players, coaches and supporters was correspondingly divided. "We are also extremely annoyed by these draws," said Jonas Meffert after the regeneration session on Sunday. "Like the fans, we also expect a win in our own stadium. But there's no point in telling ourselves that now every week and being angry for a long time. We keep working to make it work," the midfielder elaborates.
The coach echoed the same sentiment the night before. "We tried everything and gave it our all, ran over 120 kilometres again, so I can't blame my team in terms of passion," said Tim Walter, who is also looking for the reasons why his team still can't bring a lead to the finish line. "We should have made the game more ours after the early goal. We were then too playful, too inconsistent, made bad decisions in front of goal and ultimately didn't put the lid on it."
"We're not yet that ruthless".
An analysis that was not made for the first time this season. Nevertheless, there is no impatience among those responsible. "We are not yet that ruthless. You could see that in the last few weeks. Age and experience in such situations are crucial. You don't change that overnight. We are working hard to learn that," explains Walter, who carries this into the team again and again. "We train a lot in training to become more effective and more consistent, and the coach gives us a lot of solutions. But they are not so easy to implement. It just takes time," says Meffert, adding that he doesn't see the glass as half-empty because of the many draws. "We are ten games unbeaten and have only lost one game in total. Of course, it could be more. We are working on rewarding ourselves even more for the performances. But all in all, it was a good week," says Meffert - even if it could have been gilded with a win.