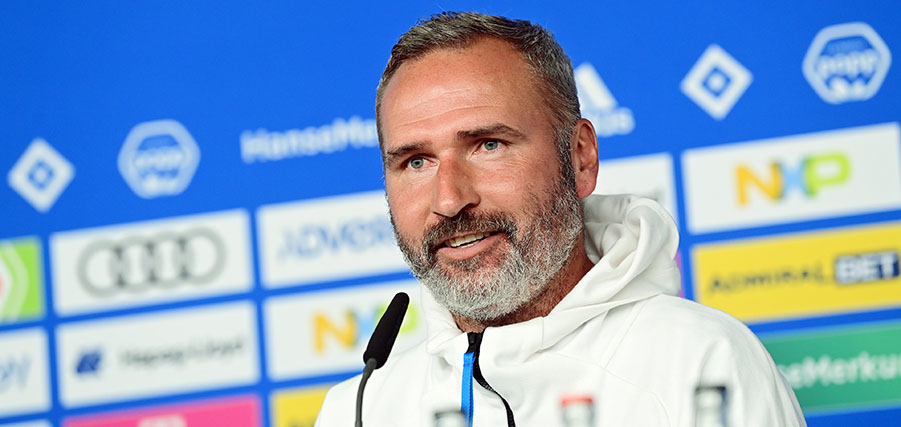 Press Conference
15.07.22
Walter: "We are full of energy and drive".
In the press conference ahead of the Rothosen's 2022/23 2. Bundesliga opener at Eintracht Braunschweig, HSV coach Tim Walter spoke about the week of training that had gone by, the role of favourites this season and the clash with the Niedersachsen side, among other things
Just how eventful the recent times were and are was evident this Friday afternoon in the Hamburger SV press conference room, where a matchday press conference was held as a face-to-face event for the first time since the start of the Corona pandemic. It was also a first for HSV press officer Philipp Langer, who has been in this position since the final spurt of the 2019/20 season, and he managed it alongside head coach Tim Walter in his usual confident and relaxed manner. Absolute anticipation for the new season radiated from the duo, who were still in mournful solitude on the podium in pre-season and have long since become unmistakable. "We are full of energy and a zest for action," football coach Walter emphasised to the media representatives present and spoke in detail about ...
... his louder approach during the training week: I have noticed the alliteration of the "Angry-Walter" in the media. Angery Walter is followed by soft Walter. (laughs) I am a man of clear words. If something doesn't suit me, I speak up. I want the boys to stay focused. There must be no slackness. We always have to be careful to keep our senses sharp. The boys are doing well. The measurement rate is set and good, but I want to see that every day. It's completely human and normal that things get louder at times. As soon as it goes into the dressing room, the issue is settled again. On the pitch, I'm concerned with the work, but not with the people themselves. Basically, we are on the right track. Our processes are much more well-rehearsed. The philosophy I tried to implement at the club has already reached another level. We are at a high level and want to continue on our path now.
"We want to deliver what everyone expects from us"
... dealing with being the favourites: I have often stressed that pressure is a privilege. Only those who play, fight and work for something are allowed to have it. I find pressure pleasant and a confirmation of the work. I enjoy being allowed to work in this club. Not everyone is allowed to do that. It's not pressure, it's an incentive. If it was up to me, we could have started much earlier. I couldn't wait to get on with it. We're hoofing it. We want to do even better. We are full of energy and drive. We want to deliver what everyone expects of us. We are in a situation where we accept the challenge of being favourites. But that should settle the demand at the beginning of the season. We don't have to give a water status report on our goal every matchday now.
... the game in Braunschweig: It's nice that such traditional clubs as Braunschweig, Magdeburg and Kaiserslautern are returning to the league. That makes it even more attractive. Basically, however, the preparation for such games always remains the same: We know the images from preparatory games and also from the cup game in the previous season, although we are much further ahead now. Nevertheless, we know what the opponent is doing. It's important for us to stay the same in our routines. We're facing a robust team that is looking for transition moments and at the same time presses situationally. They have good pace up front. We have to be very careful, also in standard situations. We were already good in this respect in the pre-season and we want to get even better.