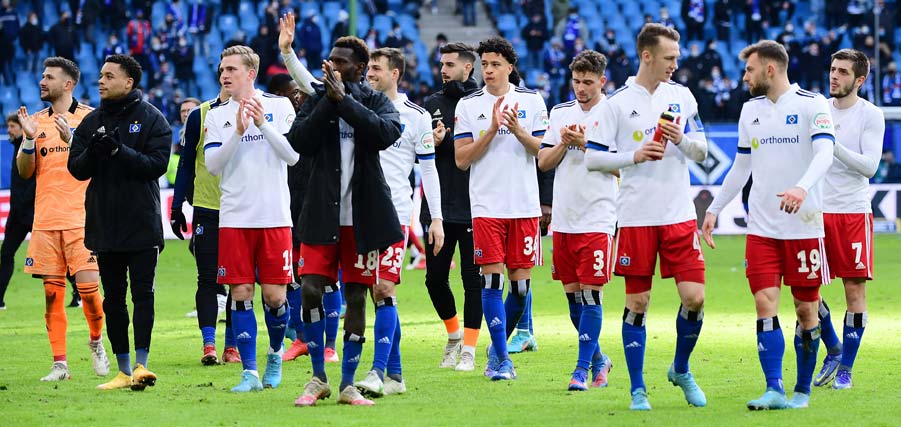 Voice's From the Game
12.02.22
"We have remained patient and persistent".
HSV wins against strong Heidenheim 2:0 and thus clinches its third win in a row. But it was hard work, as all the HSV protagonists emphasised. The voices on the game.
After the final whistle, the HSV professionals enjoyed their lap of honour. Finally, there were more spectators in the Volksparkstadion, 10,000 in all. And they had carried their team through the five minutes of injury time on Saturday (12 February) before the final whistle sounded, HSV's 2:0 home victory over 1. FC Heidenheim was certain, and the entire HSV entourage could make its way through the stadium. And they did so with a big smile on their faces, but also with tired legs, because it had been the expectedly difficult game against the team with the strongest run in the league, which also proved on this 22nd matchday that it can present any opponent with serious problems. The Reds rated this important victory accordingly when they took their positions in the mixed zone of the Volksparkstadion after the lap of honour. The comments on the game.
Sonny Kittel: It was a difficult game because Heidenheim ran a lot and also had some opportunities. But basically it was a deserved victory because we took the fight and beat an unpleasant opponent. We held our own throughout the game, but were also a bit lucky on one or two occasions. It's a nice side effect that I'm now HSV's record goal scorer in the second division, but ultimately it doesn't mean that much to me because I'm part of the team and want to help the team.
Miro Muheim: I think it was a deserved victory. We had more of the game, even though Heidenheim had more chances after the change of ends and before our first goal. But we defended well, threw everything we had into the game and fought off this team that was so difficult to play against. We reaped the reward for that with the two goals.
"Not only did we implement the coach's instructions well offensively, but we also defended well"
Daniel Heuer Fernandes: It was a very good game from us, which I think we absolutely deserved to win. We created good chances, but also remained patient at all times and were rewarded in the end. But of course Heidenheim also had their chances, you can't prevent that in the always very intense games against the FCH. But not only did we implement the coach's instructions well offensively, we also defended well, threw ourselves into the balls and therefore deserved the victory.
Tim Walter: We saw a very intense game in which patience was important. We showed that today. It was clear that we were going to have a lot of scenes where we played forward and didn't quite get through and the Heidenheim players were always there. They run until they drop and it's really unpleasant to play against them. You have to persevere to create those situations. That's what we did. It's normal that the opponent also has chances. We tried to defend everything. In the end, by staying patient and persistent, we forced the goals and, in my opinion, deserved to win.
Frank Schmidt: I liked my team today. You could see what we were trying to do here. We didn't want to close down passing lanes as much as we wanted to create ball pressure. We managed that very well for a long time. When we were organised, it was difficult to get behind our chain. We had a great chance early on, plus there were one or two situations where Kevin Müller helped us. I saw a totally even game in the first half. Then we come out of the break very well and had some good chances. If you want to take something home, you have to make one of them. Then HSV took the lead when we were disorderly and so it became difficult for us and with the 2:0 HSV has the class to bring it home. Unfortunately, we didn't get the reward today.