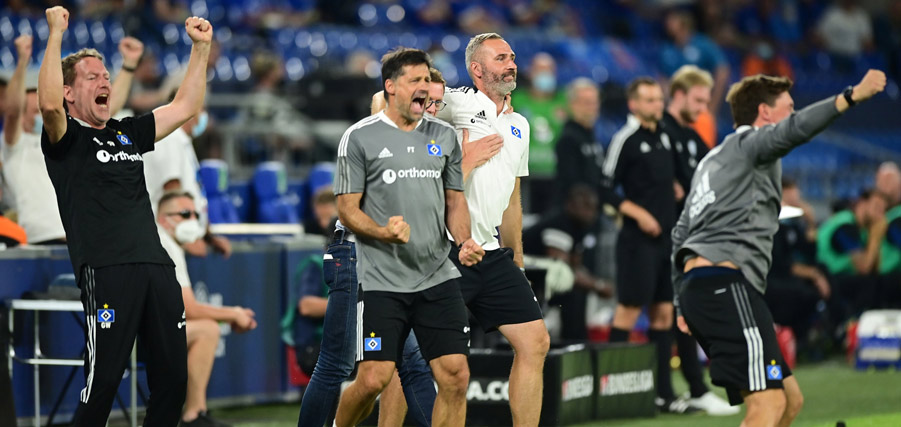 Reaction to the game
23.07.21
"We kept our courage"
A 1-0 half-time deficit turned into a 3-1 victory and an ideal start to the 2021/22 second-division season – head coach Tim Walter and his side were understandably pleased at full time.
When Tim Walter gathered his players together at full time, all that could be seen were happy faces. The HSV players, staff and coaching team had every reason to be delighted, after all, after a hard-fought 3-1 away win at FC Schalke 04. The 2021/22 second-division season opener couldn't have gone much better, especially when taking into account the team falling 1-0 behind early on (7th minute), which the Rothosen turned around with a strong display of will in the second half (52', 83', 90'). As a result, the reaction was positive at full time. HSV.de has a round-up of what was said after the final whistle.
Sebastian Schonlau: It wasn't easy for us at the beginning. We conceded the opening goal early on and were then chasing the game. But we hung on and carried on playing our game, even after the missed penalty. It was amazing to see the team believe in themselves. In the second half, we rewarded ourselves. It's not just by chance that three substitutes were involved for our second goal 2-1.
Jonas Meffert: To win away against the clear favourites, Schalke, is very special. Even at 1-1, we always had it in the back of our minds that we wanted to get the win. We knew that we would have a lot of possession. The fact that it ended up being so high in the end is partly down to Schalke's early lead. The good thing was that we had enough time to turn the game around. Now we're all really looking forward to next week when we get to play in front of our fans.
Maximilian Rohr: It's just amazing how everything turned out after the substitution and you're able to contribute something to the game. But it's much more important that we got the win. The three points are what counts. The head coach believed in us the whole time and we believed in the style of play that we carried out. We were convinced and composed, even after the 1-0, and that helped us fight back.
Tim Walter: To play in front of so many fans again is simply a great feeling. It was an incredible atmosphere. You could notice it in my team at the beginning; they were a bit taken aback by how loud it was on the pitch. But at the same time, the atmosphere was extremely inspiring. Going behind was a wake-up call. We just kept playing and overcame all the problems we faced in the game. Even after the missed penalty, we didn't give up. We kept our courage, invested a lot and were ultimately rewarded with really nice goals. Of course, it feels good to turn a game like that. At the same time, there's always a bit of luck involved. Schalke are strong when it comes to set pieces because their height is tough to deal with. We were helped a lot here by Daniel Heuer Fernandes. We are happy to be going home with a 3-1 win. The team did an outstanding job. There are definitely things to improve on in all areas. We're at the start of the season and there's always room for improvement. We still have 33 matchdays and time to get better.
Dimitrios Grammozis: It's a real shame to have started our season with a defeat. We were right in the game in the first half, we adapted well to a team that are good running with the ball, and we were committed in winning the midfield battles, which we managed to do. The opposition had more possession, but fewer chances. We wanted to do the same in the second half, but unfortunately we conceded the equaliser and then missed our chance to take the lead again. We tried to stay in it and had several chances to score, but the difference today was that the opposition scored the goals at the right times, which we didn't.