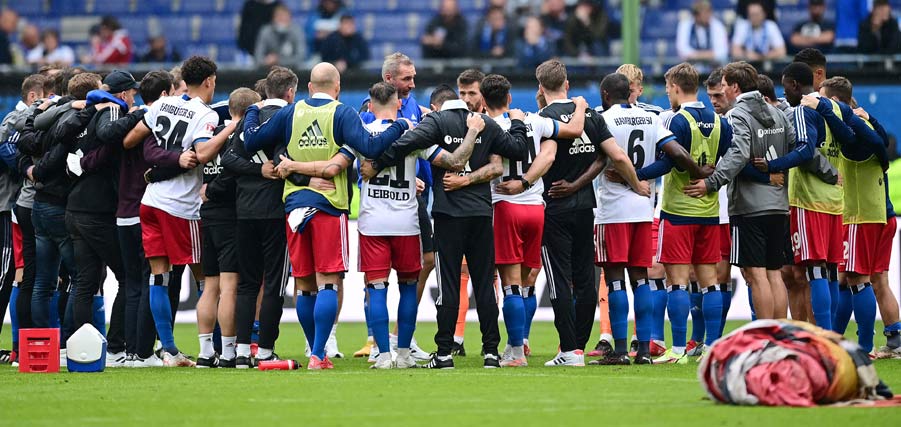 Voice's From the Game
22.08.21
"... you can't concede after you score".
The goal conceded shortly before the half-time whistle is particularly annoying for the Red Shorts, who are not satisfied with the 2-2 draw against Darmstadt.
The action in the Volksparkstadion was highly emotional for more than 94 minutes. Especially in the first half, the 17,950 spectators in the sold-out Volksparkstadion saw many exciting scenes in addition to the four goals. Philipp Tietz's penalty (14th) gave Darmstadt the lead, but Sebastian Schonlau's (30th) and Moritz Heyer's (45th) goals turned it into a lead before the break, but before the half-time whistle the Lilies equalised through Tietz (45.+3). It was this scene that annoyed players and coaches after the game, as well as the lack of chances. Quotes from the game.
Moritz Heyer: It was a beautiful goal by me. The last time I scored a goal like that was when I was a youth player. But I can't really be happy about it because we didn't win the game. We have to make better use of our chances to score, and we also made a few mistakes at the back. I made one or two mistakes myself, which made me think about what I was doing. We have to stop that. We did better in the second half, but it wasn't enough.

Daniel Heuer Fernandes: Of course we are not satisfied with the division of points. Today, we have to blame ourselves for taking a 2-1 lead in the 45th minute and then equalising before the break. You can't score any more goals. In the second half we tried everything, had our chances, but didn't make them.
Sebastian Schonlau: If we score the 2:1 just before the break, then we must not equalise before half-time. We have to look at that. Then you come out of half-time differently. Nevertheless, we had enough chances to decide the game.
"We then lost our heads a little bit because the spectators come too, because they push us forward and don't want to have the ball always with Ferro." Tim Walter
Tim Walter: "With the start we were well in it, had a huge chance from Baka with his head. That's exactly what we wanted: Chip balls in at the back or balls around the front in front of the chain. I think we're getting better and better at that. We have to be more consistent in our finishing. If you don't do things in front and don't reward yourself for it, it will be difficult. My team can't yet convert the euphoria they develop up front into euphoria in defence.
Today, we saw more phases of readiness, we also came back excellently after the penalty and deservedly took a 2:1 lead. Then we get the 2:2 via a throw-in. That simply can't happen to us. Nevertheless, we go in, shake ourselves for a moment and continue in the second half. We're back into it intensively, create goal-scoring chances and want to win the game at all costs. Then we lost our heads a bit, because the spectators also come, because they push us forward and don't always want to have the ball with Ferro. But that's just part of our game. We need more patience. I hope that the spectators will push us forward even more, as they do in other situations. We are not yet satisfied with the points we have scored. We're slowly getting used to the way we play.

Torsten Lieberknecht: The spectators saw a heated, emotional and passionate duel. We had to cope with the atmosphere for the first ten minutes. Then our idea of how we wanted to play HSV took hold in many situations. With the first ball attacks, we became more and more courageous. Nevertheless, you go behind 2-1 just before half-time, although we had a good feeling on the pitch. We had a few chances, but HSV also had numerous opportunities. There were different phases in this game. With a bit of luck, more would have been possible here. That's why we are a bit disappointed.